Customer success story
Petizaction.org

Industry

Social activities
Location

French
Goals

Make our tools and know-how available to you free of charge to enable the development of movements
Type

Social Platform
Website

https://petizaction.org/
Established

2019
Products used
The most completed Petition Platform WordPress Theme
Petizaction.org a petition platform in France is against the Corrida bullfights. Seek justice for a dog poisoned with poison.
Pétizaction is an online petitions site that allows citizens, who wish to defend an idea, launch a movement and mobilize behind a cause, to make their voice heard and unite hundreds of thousands of other people behind their action.
We make our tools and know-how available to you free of charge to enable the development of movements that are important for the future of our society and our world.
We are at the beginning of history and you can write it with us … The rest is up to you.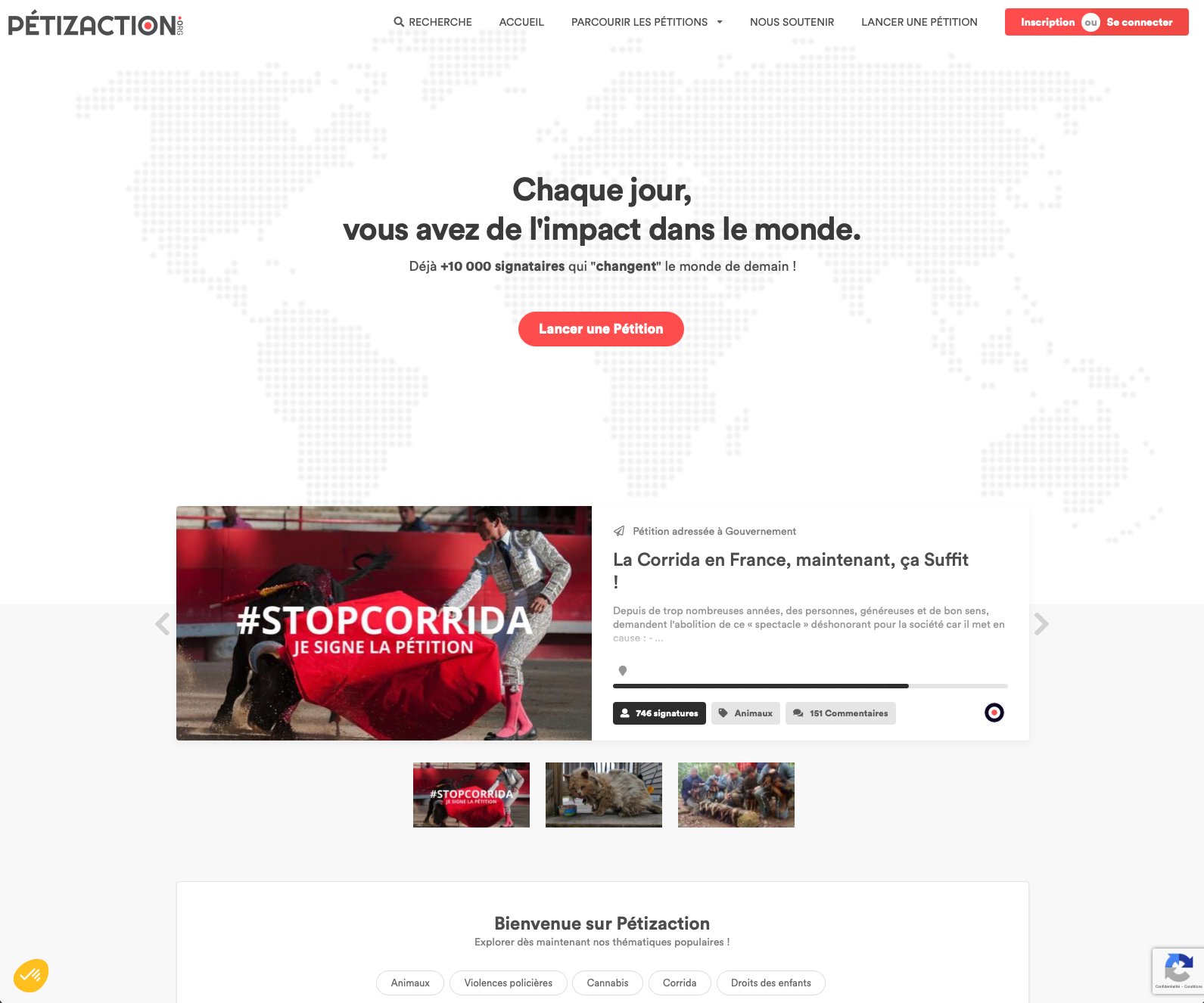 The template is really nice and offers quite a large set of options. It's beautiful and the coding is done quickly and seamlessly. Thank you!
Maria Muszynska
Head of IT department
More related stories
Founded by high school students Ayla Gordon-Mandel and Angelita Chew, Young Women Stand Against Prejudice (STAND) empowers young women in the fight against bigotry and inequality. Whether the unjust policies be on the basis of race, disability, gender, or sexual orientation, STAND equip young women with the proper tools and knowledge to forge change. STAND creates a space for highschool-age girls to take political action against the systematic oppression and discrimination in America—making a difference in their communities and nation.
December 12, 2019 a petition "German and Dutch police must investigate Halim Tanwir's racist and misogynistic remarks" launch on Daadkhah. The purpose of this petition is to ensure that racist and anti-feminist statements are not unanswered by well-known Afghan political figures, both at home and abroad. These people, in whatever position they are, must realize…
Crowdfunding platform for teachers' ideas in Romania. Choose the project that inspires you and contribute as much as you can. A team of entrepreneurs, managers and action people who over time have grown pioneering business projects in their fields of activity. Narada understood that education is the basis of any progress and that if the…