Customer success story
Narada.ro
Industry

Non-profit
Location

Romania
Goals

Narada believe that the school in Romania must take the step from a traditional teaching system to a hybrid one, which effectively combines the already existing methods and the technology of the 21st century.
Type

Crowfunding
Website

narada.ro/toate-proiectele/
Established

2019
Products used
The most completed Petition Platform WordPress Theme
Crowdfunding platform for teachers' ideas in Romania. Choose the project that inspires you and contribute as much as you can.
A team of entrepreneurs, managers and action people who over time have grown pioneering business projects in their fields of activity. Narada understood that education is the basis of any progress and that if the education crisis deepens in Romania, the cultural, social and economic effects could be catastrophic.
Narada team was born under the umbrella of the Romanian Business Leaders Foundation, in order to feed innovation in grassroots education.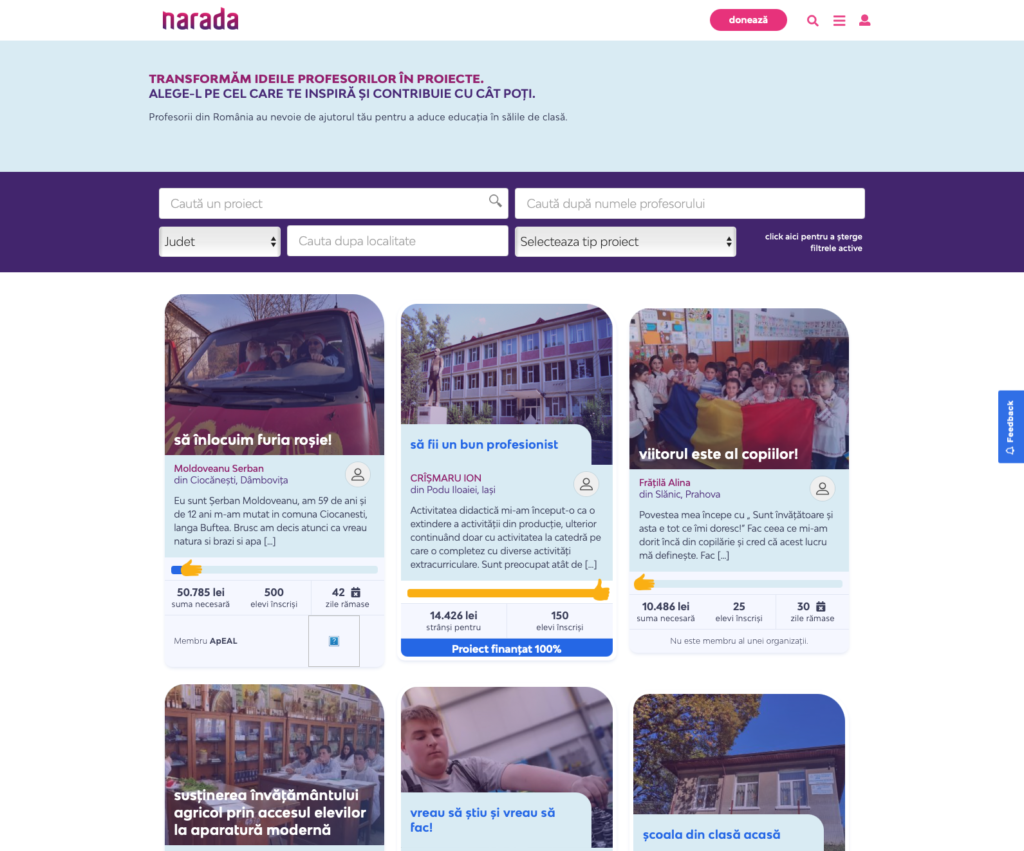 Narada Goals
Narada believe that the school in Romania must take the step from a traditional teaching system to a hybrid one, which effectively combines the already existing methods and the technology of the 21st century.
Narada know that concrete change begins with teachers. They are the people who know best the situation in their school, in the classrooms and in the lives of their students. They are the ambassadors of a modern education. Narada want to find them, these visionary and proactive teachers, to assist them in the process of making their needs known and to put them in touch with all the involved and responsible business people who want to put their shoulder to the wheel and help them.
Narada operate on the model of "communities that help other communities", and our role is to be the meeting space between them. And Narada play on both teams. On the one hand, Narada guide teachers from disadvantaged communities throughout the process of creating fundable projects. On the other hand, Narada find business people, companies, their employees, other professionals and anyone who wants to contribute and Narada bring to their attention the teachers' projects. Narada do our best to fund them. And finally Narada supervise their implementation, measure the results and quickly multiply what worked.
How it work?
As an intervention team that provides first aid in education. Like an Emergency Reception Unit in education, we have agility and a quick and targeted response. We are not many and we do not have too many resources ourselves, but we have this entrepreneurial DNA and a mindset simply stuck in action. We don't stop, whatever it is. We don't want to be perfect, we don't want to be wrong, we don't have a 20-year plan, we want to change the school today, now, child by child and teacher by teacher.
For us, every student and every teacher matters. We are empathetic and brave, we have strength and we roll up our sleeves in the second two. When it works out, we keep it that way, when it doesn't work out, we learn something and start over.
How they work?
100% of the profit of our activities returns for the same goal, to accelerate the modernization of education to a hybrid type, 21st century.
Although Narada are a small team and Narada are organized like a startup, with the necessary challenges, our entrepreneurial experience helps us to streamline our internal processes and always aim to achieve the greatest possible impact, consuming as few resources as possible. And in this way, Narada can reach as many students and teachers in difficulty as possible.
Narada are also continuously working on the development of financial mechanisms to ensure the financial sustainability of the organization and to cover indirect costs with salaries, fees, project promotion, including those for research and the development of new solutions for modernizing education.
The template is really nice and offers quite a large set of options. It's beautiful and the coding is done quickly and seamlessly. Thank you!
Maria Muszynska
Head of IT department
More related stories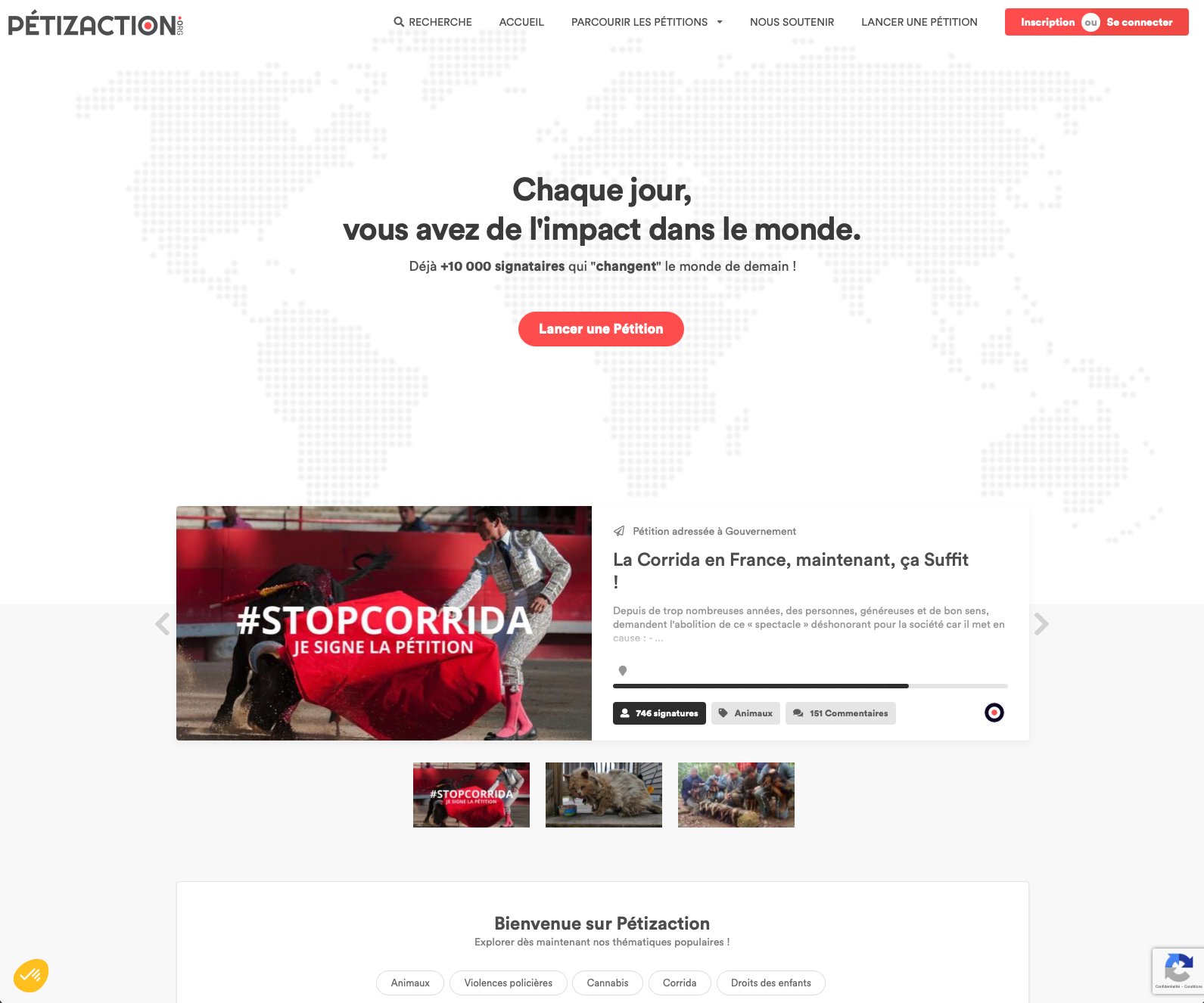 Petizaction.org a petition platform in France is against the Corrida bullfights. Seek justice for a dog poisoned with poison. Pétizaction is an online petitions site that allows citizens, who wish to defend an idea, launch a movement and mobilize behind a cause, to make their voice heard and unite hundreds of thousands of other people…
Founded by high school students Ayla Gordon-Mandel and Angelita Chew, Young Women Stand Against Prejudice (STAND) empowers young women in the fight against bigotry and inequality. Whether the unjust policies be on the basis of race, disability, gender, or sexual orientation, STAND equip young women with the proper tools and knowledge to forge change. STAND creates a space for highschool-age girls to take political action against the systematic oppression and discrimination in America—making a difference in their communities and nation.
We are in this together (weareinthistogether.eu) initiated by Sven Giegold, a member of the European Parliament, calling on the people of European countries to unite in the Covid-19 pandemic. The movement spread quickly on Twitter with the hastag #WeAreInThisTogether and today more than 20,000 people have signed up to join the movement on the site….