Are you looking for a platform to buy bitcoins or cryptocurrencies directly from others without a middleman to protect your privacy. Here is a list of 10 best peer-to-peer exchanges to buy bitcoin and cryptocurrencies.
Peer to Peer Cryptocurrency Exchanges (P2P) or 'decentralized' exchanges is a software-based platform that allows crypto-market participants to trade directly with one another by eliminating any third-party involvement. It has made the transactions most accessible by eliminating the risk associated with middlemen as it has elevated the levels of security and worth mentioning the speed of digital transactions.
Paxful is a cryptocurrency peer to peer exchanges and digital wallet provider. Customers can buy and sell cryptos using 350+ payment methods. Our review will cover how to open a Paxful wallet, the account login process, minimum deposit requirements, sending fees, and more. Find out whether to start buying and trading Bitcoin at Paxful.
Paxful was founded in 2015 (originally EasyBitz). Today the company has 4.8 million users and employs 200+ individuals, with globals offices in Hong Kong, Estonia, and the Philippines. Its headquarters are located in the New York City (NYC) office, USA. Its users also span the world, with active Paxful traders found everywhere from Pakistan and Malaysia to the UAE, India, Zimbabwe and Indonesia.
The vision of the founder and CEO was to create a world where finance was accessible to all, with cryptos connecting the dots.
The company's charitable initiative #BuiltwithBitcoin was launched in 2017, supporting philanthropy projects in countries including Ghana, Nigeria, Kenya, and Uganda.
Users can buy Bitcoin (BTC), Tether (USDT), and Ethereum (ETH) at Paxful. No other digital currencies are available to purchase. This means the cryptocurrency trading platform is fairly limited vs competitors like Binance and Coinbase. Minimum limits for BTC transactions apply.
Over 350 payment methods can be used to buy and sell Bitcoin, Tether and Ethereum, including Ripple (XRP), Monero (XMR), Dogecoin (DOGE).
The Paxful Inc wallet is a free, convenient, and safe way to manage cryptocurrencies or access the P2P marketplace to buy and sell Bitcoin. The wallet is available for download to PC, mobile devices, or via API trading.
Cryptocurrency conversions are subject to a 0.5% fee. Paxful does not charge to buy cryptocurrency, however, an exchange fee is set by other customers and account owners offering Bitcoin purchases. Transfer fees apply to sell crypto coins, varying by payment method. Bank transfers incur the lowest charge at 0.5%. Alternative methods including debit cards, digital currencies, and online wallets are subject to a 1% fee. The gift card rate incurs the highest rate for selling crypto at 5%. An escrow network fee is deducted from a vendor's wallet immediately and delivered to Paxful upon completion of a trade.
LocalBitcoins is a popular peer-to-peer (P2P) Bitcoin exchange platform that connects buyers and sellers. The platform allows traders to buy/sell Bitcoin using different payment methods, including PayPal, bank transfers and altcoins. It is an ideal platform for users that want to own cryptocurrency. This article will review what LocalBitcoins offers, how to use it and other factors to consider.
LocalBitcoins is a legitimate online marketplace, with its office based in Helsinki, Finland. It was founded in June of 2012 by Jeremias Kangas and has since become one of the best financially performing companies in Finland. The current CEO and owner of the company is Sebastian Sonntag. The exchange is designed to be supported for all users and all countries, so it doesn't matter if you are from the UK, USA, Yemen, Germany, Ghana or any other country, unless explicitly banned.
The LocalBitcoins platform has previously been featured in the news due to controversies in Russia, where, in September of 2016, access to the site was blocked by the telecommunications executive agency, Roskomnadzor, as the platform could be used for money laundering. In 2019, the revenue of LocalBitcoins rose to $29.6 million. Simply viewing the volume of trades by country made on the site is enough to solidify its position as a popular peer-to-peer platform.
It should be noted that although the official website name is LocalBitcoins.com, it can be accessed through the localbitcoins.net web address. The platform also offers onion links. The site has to date received a 4.8 rating on TrustPilot.
The LocalBitcoins platform accepts buy/sell orders for different currencies, ranging from traditional Fiat currency like GBP, USD and EUR, to altcoins like USDT, Ethereum (ETH), Monero (XMR), XRP and Dogecoin.
Payments can be made via bank transfers, PayPal, credit cards and other platforms like Qiwi and Zelle. It should be noted that trading Bitcoins may be subject to your local laws and could qualify for tax (e.g. HMRC).
To receive Bitcoins on LocalBitcoins, you are provided with a wallet address that is tied to your account. You can use this receiving address to send funds, though there is a deposit fee for each transaction. This deposit fee is small, for example, 0.0005 BTC, and is subject to change. This fee can also be considered a minimum deposit amount as if fewer Bitcoins are sent than the deposit fee, then they will not be delivered to your wallet.
LocalBitcoins contains transaction fees that are attached to any advertisements you make and any trades that come from them. This fee is roughly 1% of your transaction.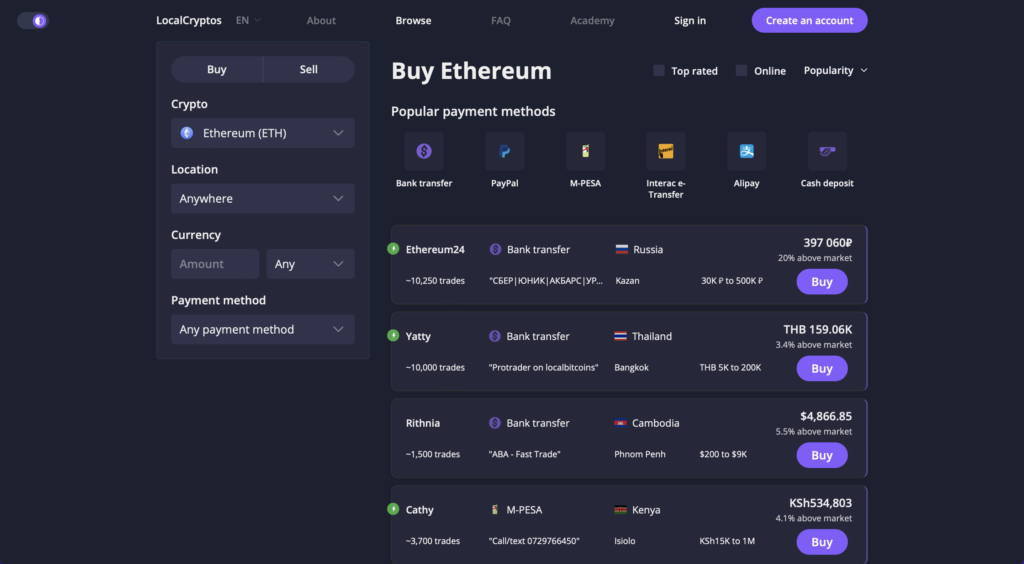 LocalCryptos is an online P2P marketplace that allows customers to trade Bitcoin, Ethereum and other major crypto coins directly with each other. Originally launching in 2017, LocalCryptos has built a strong community with a high trading volume. This review will delve into the platform's features, supported coins, pricing structure, payment methods and more.
LocalCryptos is a peer-to-peer (P2P) cryptocurrency exchange. P2P exchanges work differently from centralised exchanges, where buyers and sellers are matched automatically. With P2P exchanges, you select which seller you want to buy from at a price that works for both of you.
The P2P exchange was launched in 2017 by founder and CEO, Michael Foster, under the name LocalEthereum. Initially, it was the go-to place for P2P Ethereum trading until November 2019 when it rebranded to LocalCryptos and expanded its cryptocurrency offering. The company is operated by the holding company, LocalEthereum Pty Limited, based in Richmond, Australia.
LocalCryptos is available in more than 130 countries worldwide. Popular countries include the United Kingdom (UK), the United States (US), Colombia, Kenya, Peru, Panama, Mexico, New Zealand (NZ), Pakistan, Venezuela, Chile, Bolivia, Canada, India and Ecuador.
Since they launched with only Ethereum, LocalCryptos has expanded its P2P offering, now including:
Bitcoin Cash (BCH)
Ethereum (ETH)
Litecoin (LTC)
Bitcoin (BTC)
Dash (DASH)
While LocalCryptos still lack some popular coins like Tether (USDT), this is a good range compared to some competitors. The exchange tends to have votes on which cryptocurrencies should be added to the platform next.
P2P trading through the exchange is anonymous. Users do not need to submit ID or complete know-your-customer (KYC) verification before they are allowed to start trading. Most of the popular centralised exchanges like Kraken and BitMex require users to share multiple forms of ID and proof of address before they can trade.
LocalCryptos use a "taker and maker" fee structure. Essentially, the maker is the person posting an advertisement or trade and the taker is the person responding to it. The maker is charged a 0.25% fee for each completed trade, while the taker is charged 0.75%.
0.75% is relatively high compared to standard taker fees. However, 0.25% is in line with the P2P platform average.
In Ethereum trades, the buyer will always receive slightly less than the amount they were indicated, due to the gas fee to pay miners.
If your trade gets cancelled, you may still notice that your balance is down as escrow fees still need to be paid.
LocalCoinSwap is a P2P crypto exchange where users can stay anonymous and trade crypto coins with each other. Whether you are in the UK, Venezuela, Argentina or almost anywhere else, the LocalCoinSwap exchange can link you with other traders at great prices for the crypto tokens you desire. This review will look at everything from the cryptocurrencies offered to the safety features implemented to protect you when trading. There is also a guide to help you get started.
LocalCoinSwap is a decentralised marketplace providing safe and fast peer-to-peer (P2P) crypto trading. The exchange allows buyers and sellers to trade several cryptocurrencies directly with each other using various methods of payment. The trading platform, which launched in 2018, provides both custodial and non-custodial trading for its customers.
Safety and security are pillars of the LocalCoinSwap services. The platform utilises a secure escrow system, as well as a reputation system so you can see the history of users before you trade with them. There are many other features provided that further protect traders, such as two-factor authentication (2FA) and an active support team.
LocalCoinSwap offers a great range of cryptocurrencies:
Dash (DASH)
Bitcoin (BTC)
Tether (USDT)
Kusama (KSM)
Polkadot (DOT)
Ethereum (ETH)
USD Coin (USDC)
Dai Stablecoin (DAI)
Paxos Standard (PAX)
LCS Cryptoshares (LCS)
Comparing the asset range to alternatives, such as LocalBitcoins or Paxful, LocalCoinSwap offers a much more diverse selection of cryptocurrencies. LocalBitcoins only allow users to trade Bitcoin, while Paxful has only just added Tether to their selection. Previously, users could only trade Bitcoin and Ethereum. This puts LocalCoinSwap ahead of its P2P competitors when it comes to coins and stablecoins.
If you respond to a trade that is already posted, you will not pay any fees. This is LocalCoinSwap's way of encouraging users to look through the offers that are already posted and find a suitable deal. If you post a trade, you will be charged a 1% trading fee when the deal is completed. Essentially, if you respond to an advertisement, you pay no fee, whereas if you post an advert and the deal goes through you pay the fee. While a 1% fee seems high compared to centralised exchanges, it is not competitive for a P2P exchange, especially when you consider only one party pays the fee.
If you use non-custodial trading, extra costs may be incurred. These are not taken by the LocalCoinSwap platform itself but instead are used to pay for on-chain transactions that are part of the trading process. For example, extra Ethereum is required during a trade to pay transaction fees to miners.
The minimum withdrawal amount for LocalCoinSwap is currently 0.0005 BTC, with a withdrawal fee of 0.00025 BTC. There is no maximum withdrawal limit. The withdrawal fee is regularly adjusted according to the blockchain conditions.
Hodl Hodl is a peer-to-peer (P2P) Bitcoin exchange platform. The platform also offers P2P lending services through Lend at Hodl Hodl, and a trade test platform called TESTNET, which is reminiscent of typical demo accounts on other exchanges. This article will explore the platform, its services and how to get started.
Hodl Hodl is a crypto exchange, focusing on peer-to-peer trading of Bitcoin. The platform focuses on minimising the involvement of a middleman (themselves) in trades between buyers/borrowers and sellers/lenders. It also prides itself in the anonymity that it offers to its users, not requiring any know-your-customer (KYC) or anti-money-laundering (AML) checks to begin trading, as it is a non-custodial platform that holds none of your funds.
Given that Hodl Hodl is non-custodial, users do not have to deposit their funds onto the platform before participating in any trades, so their own third party wallet is required. You do not need to download any app to trade and the platform does not offer a mobile app.
The Hodl Hodl platform has made its presence known by being featured on multiple podcast episodes with other creators, as well as maintaining their own Reddit subreddit, Twitter and LinkedIn accounts.
Hodl Hodl is primarily a Bitcoin trading platform, which allows for trades to be carried out in any currency, given that the payment terms and requirements are set by those users who open offers. This means that the platform accepts almost all fiat currencies, as well as altcoins, as payment.
Hodl Hodl applies fees to every transaction carried out on the P2P exchange platform. For newly registered users, the transaction fee is 0.6%. This can be reduced to 0.55% if you are a referee or if you have referred a user to the site. The minimum fee that can be applied is 0.5%, which is gained by going through the full verification process. The fee is split between both the buyer and the seller, where both pay an equal amount. The fees are deducted upon successful completion of the contract.
For example, if there is a trade for 1 BTC worth $10,000, and the trading fee is 0.6%, then the platform will withhold 0.006 BTC from the funds sent by the seller (sending 0.994 BTC) and the buyer will be asked to send $9,970 to the seller. This means that both the buyer and the seller have paid an equal amount of commission: 0.003 BTC each, or $30.
Remitano Network is primarily a P2P crypto exchange platform that allows users to buy and sell digital tokens. The platform also offers margin trading, coin swap services and its own RENEC tokens. This article will review Remitano's services, fees, how to trade on the platform and what you should look out for as a trader.
Remitano is a global peer-to-peer exchange platform established in 2014 with Babylon Solutions Limited as the owner and founder. Its headquarters (head office) is based in St Vincent and the Grenadines. The online services of this platform are supported in a multitude of different countries, including (but not limited to) the UK, USA, Germany, Japan, Nigeria, South Africa and India. Although there is availability in different countries, the number of buy/sell orders available on the official website can vary greatly. Whilst some countries have thousands of offers, others might only have a couple or none.
Unlike some other similarly sized crypto exchange platforms, Remitano follows more stringent KYC checks, requiring users to go through a verification process before being able to trade in some cases. It is not uncommon to find trade orders on the platform that require ID verification to be done for your account.
Remitano users can trade six of the largest cryptocurrencies on the platform: Bitcoin (BTC), Ethereum (ETH), USD Tether (USDT), Bitcoin Cash (BCH), Litecoin (LTC) and Ripple (XRP). There is also a wide range of altcoins supported: Binance Coin (BNB), Cardano (ADA), Chainlink (LINK), EOS (EOS), Ethereum Classic (ETC), Neo (NEO), Stellar Lumens (XML), Monero (XMR), NEO (NEO), Stellar's Lumen (XML), Tezos (XTZ) and Tron's TRX (TRX). The platform does not support Dogecoin.
Binance P2P is a Peer to Peer marketplace where buyers and seller directly exchange their crypto assets for fiat currencies. Here Binance acts as an intermediary only to improve the security of the process of exchange of assets.
For example: If you want to buy USDT with INR, then you would have to find someone on Binance P2P who wants to sell his USDT and also accepting INR for this exchange.
There are over 150 different methods through which fiat currency can be paid or received by a user on Binance P2P. Binance locks up the seller's crypto assets from the time he initiates a selling advertisement till these assets are actually transferred into the buyer's account. Thus, improving the security and reliability of the process.
At the time of writing this, the list of supported crypto assets is as follows:
USDT (Tether USD)
BTC (Bitcoin)
BUSD
BNBA
ETH (Ethereum)
DAI
With the new fees scheme, Binance P2P will maintain 0 fees for takers who buy or sell cryptocurrencies by placing an order from existing advertisements on the P2P platform, while charging transaction fees to makers who post trade advertisements. The fee rates range from 0% to 0.35%, depending on fiat markets and trading pairs.
Bisq.network has an open source peer to peer system that allows anyone to sell Bitcoin in exchange for international currency (FIAT) like US Dollars, Euros or Yen, and alternative cryptocurrencies. Bisq.network proudly announced its Beta release on the 27th of April 2016. The founder of Bisq.network and developer is Manfred Karrer, an Australian who lives in Barcelona, Spain where Fab Lab Barcelona is located.

Manfred first heard about Bitcoin way back in 2011 and fell in love with it instantly! He also thinks that Bitcoin is the next best thing that came after the internet and still thinks of it that way until today.
Another interesting fact about Bisq.network is that it is an open-source project, which means that this is funded by personal savings and donations from the community. In fact, they are not a company at all but rather a "Decentralized Autonomous Organization" (DAO) with ownership distributed depending on the participation of the project. This simply means that if you are willing to contribute then you might be the next shareholder in Bitsquare!
This is what makes Bisq.network unique from most trading websites out there today as you are not required provide sensitive information over the internet. The technology is built from the ground up, that means that there are only a few of these markets operating today with the same platform as Bitsquare. With anonymity a part of the platform you are not forced into submitting Identification, Passports and even your legal name in order to start trading with them. This definitely allows anyone in the world access to bitcoin trading anywhere and anytime!
Without the traditional verification process like other websites, how do you start? All you need to do is download their software and start from there.
Bisq operates with the following fees:
Create offer fee: 0.001 BTC (paid to the arbitrators, mining fee is included)
Take offer fee: same as create offer fee (and also paid to the arbitrators)
Bitcoin mining fee: 0.0003 BTC (A mining fee is included in a transaction three times: Deposit from external wallet, trade, and withdrawal to external wallet. So the sum is 0.0009 BTC)
Security deposit (might be used as arbitration fee): 0.1 BTC, which is returned in whole to the trader after the transaction in case he is not found to have behaved dishonestly. The security deposit from dishonest trader will be used to pay the arbitrator for his efforts. In rare cases half the security deposit of each trader may be collected instead. The active arbitration fee is not related to the size of the trade and does not affect the time required to mediate a dispute as the amount of work an arbitrator must perform is roughly constant even when small amounts are exchanged.
(only for arbitrators) arbitrator's security deposit: 2 BTC. In addition, a part of each collected arbitration fee from dishonest traders is locked in the security deposit. This (accumulated) amount is returned in whole to the arbitrator upon stepping down from arbitration.
With BitValve P2P Crypto Exchange you can buy and sell your favourite cryptocurrency, with over 300+ payment methods, from anywhere in the world. BitValve guarantees the safety of the transaction, by acting as a safe escrow, until both parties have completed the trades. Check out the Marketplace and start trading in seconds!
The main idea behind BitValve P2P Exchange is that every person in the world would be able to access, buy and sell, their favorite cryptocurrency by using any payment method available, whether it is fiat or cryptocurrency, and trading directly with other users. The Platform will ensure the security of the transaction by acting as a trusted escrow service. Furthermore, the Platform will have a positive effect on the countries that are currently facing a financial crisis, such as Venezuela, by giving their people the option for an alternative, peer to peer instant trading option.
Currently, the platform supports the top 5 major cryptocurrencies, by daily volume as seen in CoinMarketCap. The team is committed to adding one new crypto every 3 months, according to daily trading volumes all around the world.
The following Cryptocurrencies are supported in BitValve, for P2P Trading on all payment methods:
Bitcoin
Ethereum
Litecoin
Bitcoin Cash
Ripple
More than 200 payment methods are accepted in BitValve and the list constantly grows! P2P Trading is supported for PayPal, Bank Transfers, Amazon Gift Cards, Apple Gift Cards, Western Union, Moneygram, Payeer, Easypaisa, and many more.
BitValve is currently offering 0% commission accounts for all its new users, for a limited time only.
After the above period passes, BitValve fees are as low as 0.5% per trade volume for P2P Trades and 0.2% for Crypto to Crypto trading!
10. CryptoLocally
CryptoLocally is a decentralized peer-to-peer crypto trading platform. Sign up and start trading in any size, with a multitude of payment methods (Cash, PayPal, Bank Transfer…), in any location and with the currency of your choice. It offers the fastest, safest and cheapest way to get in and out of crypto.
CryptoLocally is a non-custodial peer-to-peer exchange that was launched in October 2019.
Its founder is Hugo Campanella, a crypto enthusiast and is headquartered in Hong Kong.
It was formerly known as EOSLocally (an exchange focused solely on EOS and EOS-based tokens) but re-branded to CryptoLocally on 20th March 2020.
CryptoLocally Features
Cheapest
A secure and trustless system gives you the cheapest trading experience possible.
Make margins off of your transactions instead of losing several percentage points from credit cards and fees.
Secure
Enjoy fast and secured transactions without the need for endless confirmations or network congestion.
We never holds users' funds as all transactions are done on-chain and are protected by an escrow until the end of each transaction.
Easy
Trade anywhere, anytime in the local currency of your choice.
Choose one of the online payment methods or meet in person for a cash transaction!
The services of CryptoLocally are:
Buy (Buy crypto from Seller)
Sell (Sell crypto to Buyers)
Create Order (create your own offer and determine the price you want to buy or sell at)
It supports currencies such as EOS, BEP-Bitcoin, Tether, Binance Coin, etc, and provides more than 13 payment options.
WazirX has grown rapidly over the past few years into one of the biggest cryptocurrency exchanges, providing the world's second-most populous country access to an ever-expanding industry. This review will discuss the company's key details, the services on offer, benefits, drawbacks and any other relevant information you will need before you start trading with WazirX.
WazirX is a centralised cryptocurrency exchange based in India that was launched in March 2018. Its owner and CEO, Nischal Shetty, is the founder of the successful social media manager app Crowdfire and has an estimated net worth of around $5 million. Alongside co-founders Sameer Mhatra and Siddharth Menon, Shetty has built WazirX into one of the biggest Indian crypto exchanges, after ZebPay, despite the blanket ban on digital coins by the Indian central bank three weeks after launch.
Demonstrating the success of WazirX, in March 2019 it started accepting international users from countries like the UK and the USA and, in November 2019, it was acquired in a deal by Binance, who shortly afterwards invested $50 million worth of funding for Indian blockchain projects and startups.
The WazirX exchange platform charges 0.2% for both makers and takers for all BTC, INR and USDT pairs, which is below the industry average of 0.25%. WRX pairs are exempt from paying any maker or taker fee (except WRX/BTC, which charges 0.2%).
There are no direct INR deposit or withdrawal fees. However, a charge is applied for withdrawing crypto in the form of INR, dependent on the specific tokens. For example, the price for Bitcoin is BTC 0.0006, 1inch is 1INCH 3.82 and Matic Network is MATIC 12.4. Some cryptos have no withdrawal fees, such as Verge (XVG), Shiba Inu (SHIB) and Quant (QNT).
There are no WazirX hidden charges, which means there are no joining fees, yearly fees or account opening charges.

Campoal is a perfect WordPress theme to create the petition platform with fundraising. Where anyone can be start a social movement, collect supporters and raise funds to change something in society.
Related Articles