Customer success story
We Are In This Together
Industry

Politic
Location

European
Goals

European solidarity now, in the interest of all Member States
Type

Movement
Website

weareinthistogether.eu
Established

2020
Products used
The most completed Petition Platform WordPress Theme
We are in this together (weareinthistogether.eu) initiated by Sven Giegold, a member of the European Parliament, calling on the people of European countries to unite in the Covid-19 pandemic. The movement spread quickly on Twitter with the hastag #WeAreInThisTogether and today more than 20,000 people have signed up to join the movement on the site.
This petition has been initiated by Sven Giegold MdEP, Franziska Brantner MdB and Alexandra Geese MdEP.
Sven Giegold have been a member of the European Parliament for Bündnis90 / Die Grünen NRW since 2009. Sven Giegold the spokesman for the German Greens in the European Parliament, chairman of the green parliamentary group in the Committee on Economic and Financial Policy and a deputy member of the Committee on the Environment, Public Health and Food Safety.
Franziska Katharina Brantner is a German politician of the Green Party. She was a Member of the European Parliament (MEP) from 2009 to 2013, and since 2013 she has been a member of the German Parliament.
Alexandra Geese is a German politician of the Alliance 90/The Greens who has been serving as a Member of the European Parliament since 2019
The Greens/European Free Alliance is a political group in the European Parliament made up of Green, Pirate and Independent MEPs as well as MEPs from parties representing stateless nations and disadvantaged minorities.
In this form, the group was established in July 1999, when these two progressive European political families agreed to join forces in the European Parliament.
The Greens/EFA project is to build a society respectful of fundamental human rights and environmental justice: the rights to self-determination, to shelter, to good health, to education, to culture, and to a high quality of life; increase freedom within the world of work, not only by tackling unemployment but also by widening people's choices, releasing human creative potential ; deepen democracy by decentralisation and direct participation of people in decision-making that concerns them, and by enhancing openness of government in Council and Commission, and making the Commission fully answerable to Parliament; build a European Union of free peoples based on the principle of subsidiarity who believe in solidarity with each other and all the peoples of the world; re-orientate the European Union, which currently over-emphasises its economic conception at the expense of social, cultural and ecological values.
Campoal (conikal.com/campoal) is used to build the website for this movement, the system has been optimized to handle hundreds of signatures per second.
The template is really nice and offers quite a large set of options. It's beautiful and the coding is done quickly and seamlessly. Thank you!
Maria Muszynska
Head of IT department
More related stories
Stay Kind used Campoal to calling people Pledge their Kindness to protect young people like Thomas, killed by one punch at 18. Following the tragic death of his younger brother Stuart, also at 18, the Foundation evolved and became a national movement of kindness. Stay Kind are more determined than ever to keep their youth safe through a kinder Australia.
Founded by high school students Ayla Gordon-Mandel and Angelita Chew, Young Women Stand Against Prejudice (STAND) empowers young women in the fight against bigotry and inequality. Whether the unjust policies be on the basis of race, disability, gender, or sexual orientation, STAND equip young women with the proper tools and knowledge to forge change. STAND creates a space for highschool-age girls to take political action against the systematic oppression and discrimination in America—making a difference in their communities and nation.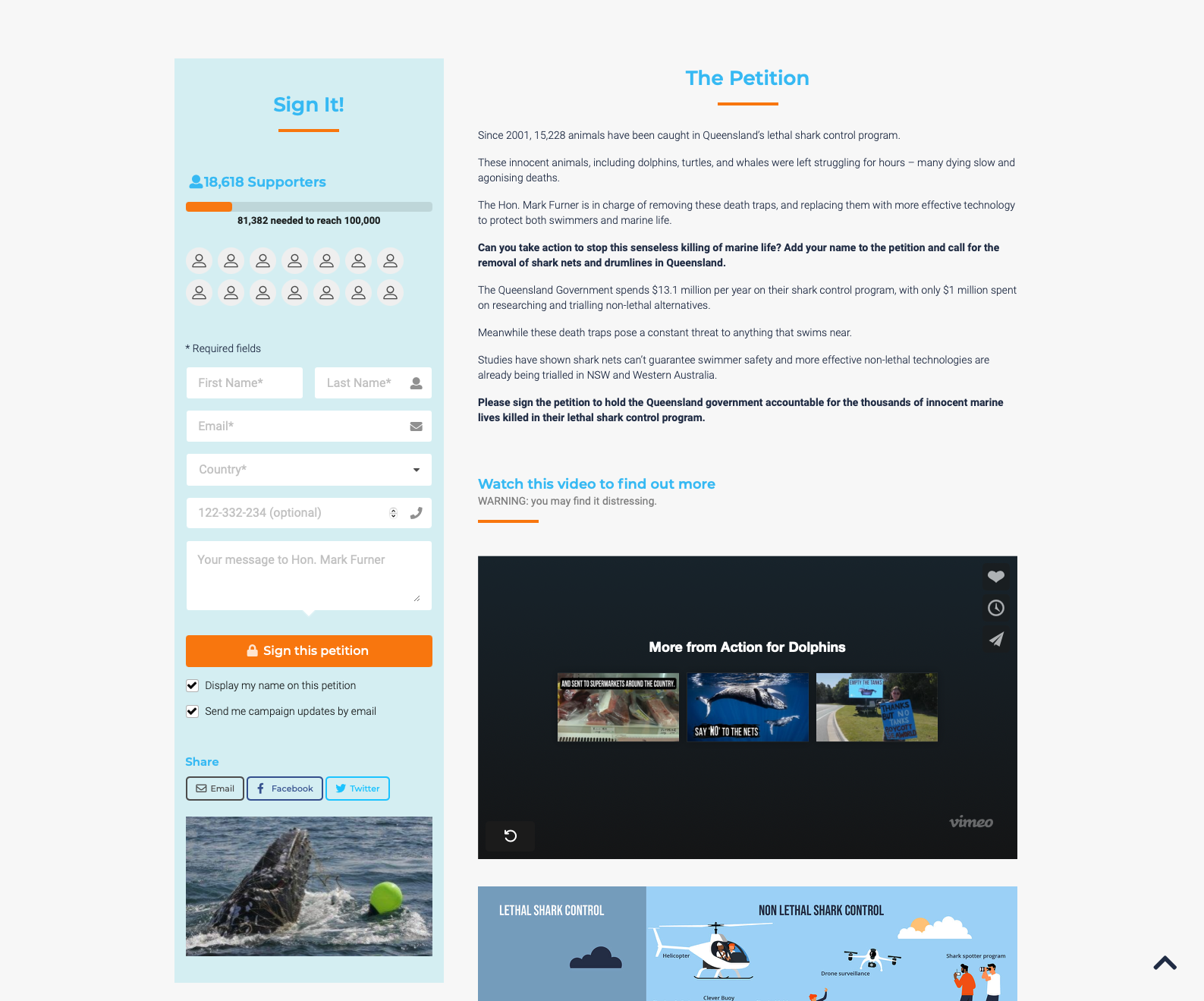 The aim of AFD is to stop cruelty to, and gain legal protection for, small cetaceans (dolphins and other small whales). AFD focuses on small cetaceans because these sentient animals do not have adequate legal protection, and are subjected to some of the most extreme cruelty inflicted on animals anywhere in the world.